To learn more about It's Monday! What Are You Reading? visit Mentor Texts
I am so relieved when the Bluebonnet books are perfect for elementary kids. That's what they're targeted for but sometimes they are too much. This is also a great example of Distopic literature that is written for middle grade kids. They want to read this hot genre, but so many are more appropriate for young adults. This is awesome! This book will be one of our Quest for the Crown books for this coming school year.
Genre: Science fiction/distopic
Grade appropriate: 4th and up
Overall: 5/5-- great book. I read it twice!
Creativity: 4/5-- Takes place after World War III when the "green bombs" have devastated the world. Not necessarily unique in the distopic world, but well done.
Characters: 5/5-- Loved them.
Appeal to kids: 5/5-- Perfect for readers craving Hunger Games/Divergent but aren't there yet maturity-wise.
Appropriate length to tell the story: 5/5
Violence: mild-- The bandits shoot Hope's father when they show up. And there is a battle with the bandits at the end. No deaths.
Drugs/Alcohol: none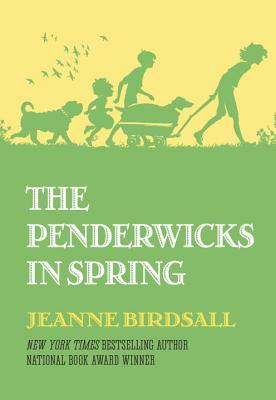 This book has been getting some buzz for the Newbery and it is adorable! It's exactly the kind of book that every parent wants their child to read. It is definitely going on our Mock Newbery list for 2016.
This is another story of the Penderwicks, a Brady Bunch type family with 6 kids who are all wholesome and sweet. The main character is the 10 year old Batty and she reports all of the goings-on of her large family from her own point of view.
Grade appropriate: 3rd and up
Overall: 5/5-- Sweet book that was just what I would have read growing up. Timeless and appealing.
Creativity: ⅗-- As I mentioned, it's very similar to many books I read growing up, but that doesn't detract from it's appeal.
Characters: 5/5-- Love Batty and Ben of course, but more than that I loved Nick and Jeffery, the family friends and role models who came and went throughout the story.
Appeal to kids: 5/5-- It doesn't have the excitement or edginess that many of the books have these days, but it will appeal to a certain audience.
Appropriate length to tell the story: 5/5
Drugs/Alcohol: none