To learn more about It's Monday! What Are You Reading? visit Mentor Texts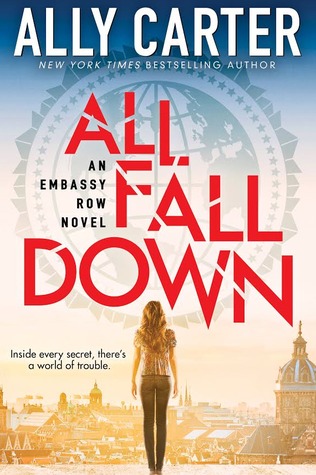 I was worried that this book would be too mature for elementary but it really wasn't too much. There's running from a bad guy but it's not too intense. There's not much boy/girl drama which seems to be the most rampant maturity issue in middle grade stuff.
Grade appropriate: 5th grade and up
Overall: 5/5-- A typical Ally Carter book. Just as fun as her Heist Society and Gallagher Girls series.
Creativity: 5/5-- The characters are children of dignitaries from all over the world. They all live in Embassies in a fictional country, "Embassy Row."
Characters: 5/5-- Great characters we get totally attached to and will look forward to meeting again in future installments of the Embassy Row series.
Engrossing: 5/5-- I blew through it. I love Ally Carter. I have since before I was a librarian. I read her stuff just for me.
Appeal to kids: 5/5-- Fans of Adventure books will love it.
Appropriate length to tell the story: 5/5
Violence: mild-- Grace's mother dies before the story starts. Grace dwells on it throughout the book. It turns out in the end that it was more disturbing…
Drugs/Alcohol: mild--Grandfather hosts poker night & she assumes they smoke cigars & drink good whiskey. Grace & her grandfather have a fight & he pours himself a drink.