To learn more about It's Monday! What Are You Reading? visit Mentor Texts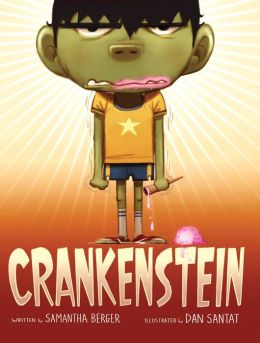 Too Cute and fun! I find myself being Crankenstein way too often! Especially in the morning! I think all our kids can identify as well.
Oh my, how do I start this review? This book left me aching. I loved the story, loved the characters, loved the setting. I want to move to Maine and live in this crazy, mysterious house. I loved the ending and it was so well written that the unanswered questions in the end just left you wondering and thinking and... humming? Not frustrated and angry.
LOVED THIS BOOK!!!! I hope it wins the Newbery today or at least gets an honor.
AR level: 4.
Grade appropriate:
RATING BREAKDOWN:
Overall: 5/5-- See notes above. I could go on raving, but really who wants to read that?
Creativity: 5/5-- There are a few books based on the fountain of youth myth, but not many. This one is a stand out.
Characters: 5/5-- I loved all the characters! They were real and relate-able.
Engrossing: 5/5-- I couldn't put it down and I never wanted it to end, but I needed it to end so I could actually do something else!
Writing: 5/5-- Beautiful. Left us hanging in such a creative and well thought-out way.
Appeal to kids: 5/5-- I think most good readers will love this book.
Appropriate length to tell the story: 5/5
CONTENT:
Language: none
Sexuality: none
Violence: none
Drugs/Alcohol: none
I read this book because I challenged my students to step out of their comfort zone and read a genre they didn't read last year.
I looked over my "read" shelf and I didn't read a single Sports book last year. SO.... to follow through I read this book by Mike Lupica. I know enough about the Sports genre to know that he is the one to read!