To learn more about It's Monday! What Are You Reading? visit Mentor Texts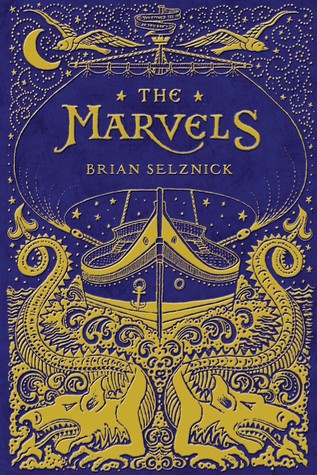 It was like magic opening the box when this came in the mail. I just caught my breath at how beautiful it is!
And there it is… the reason we can't keep it in the library or in the Newbery Book Club… Some of the characters are gay. Openly. The elementary library at a Christian school can't be where our kids learn about this.
Grade appropriate: 5th and up
Overall: 5/5-- amazing, truly.
Creativity: 5/5-- Brian Selznick, The man practically invented his own genre...
Characters: 5/5-- Joseph is every man. His curiosity and need for a friend is very easy to identify with. Frankie drove me CRAZY in the beginning! But she grows on you (and grows up.)
Engrossing: 5/5-- It's a 24 hour read. This is one of those books where you are reading along and all of a sudden you look up and remember where you are.
Writing: 5/5-- There are no words.
Appropriate length to tell the story: 5/5
Language: mild-- my god (1)
Sexuality: none-- Nothing graphic but some of the characters are openly gay.
Drugs/Alcohol: mild-- Joseph accidentally drinks wine and "something that is not water." Adults drink wine at a dinner party.